The parking lot outside the University of Nebraska at Omaha's Sapp Field House was filled Saturday with license plates from Kansas, Oklahoma, Colorado, Iowa and other Midwestern states.
The people were drawn to Omaha by colored eagle feathers, jingling dancers, deep indigenous voices and synchronized drum beats.
It was all part of this year's Wambli Sapa Memorial Pow Wow, which is named for Fred LeRoy, a prominent Ponca leader, respected elder and supporter of UNO's indigenous students.
"Wambli Sapa" is LeRoy's indigenous name, which means "Black Eagle" in Lakota. LeRoy died in 2012.
"This is a really big community event for the natives. They love to gather," said Gretchen Carroll, a UNO Native Studies staff assistant. "It's like family, and we're welcoming the non-natives to come and see a little bit of the culture."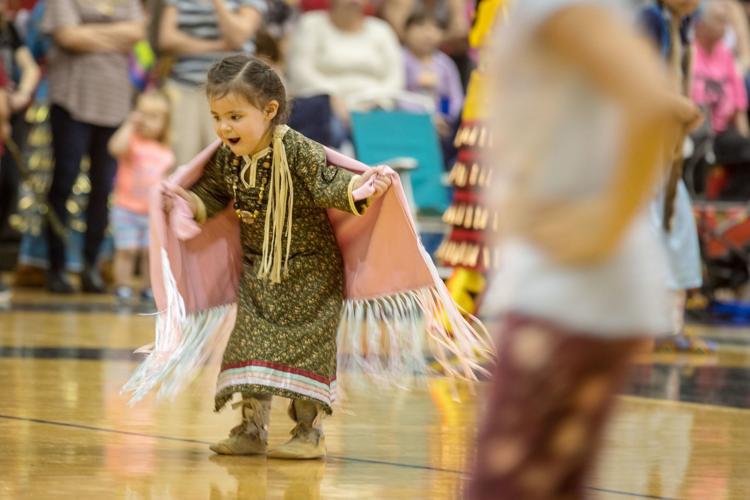 UNO and the Intertribal Student Council host the event, which usually attracts about 3,000 people, said Carroll, a citizen of the Southern Cheyenne and Arapaho Tribes of Oklahoma. All were welcome to watch dance competitions, listen to native singing, engage with vendors of traditional arts and crafts and even participate in dances themselves.
Jay and Susan Wetty of Omaha have been attending this powwow for more than a dozen years. Jay Wetty is a citizen of the Muscogee Creek Tribe in Oklahoma, and he and his wife enjoy bringing their granddaughter, Eliza Wetty, to help her learn about her culture.
They like the Wambli Sapa Memorial Pow Wow because it's so close to their home in the Benson neighborhood, and because it's fairly sizable for this region, Jay Wetty said.
Eliza's favorite dance to watch is the potato dance, when two dancers must balance a potato between each other's faces while dancing to a steady drumbeat.
"This powwow is all nations, which means everybody is welcome, including non-natives, just to come, sing, enjoy, dance, meet up with old friends and make new friends," Jay Wetty said.
Trilby Wahwasuck, a Potawatomi, came with a group of dancers and drummers from Mayetta, Kansas. He wore bright yellow regalia and eagle feathers as he drummed, sang and danced with members of the Potawatomi Nation and other indigenous nations.
He said he learned to sing and dance from his parents, and he can sing native songs in about 12 languages. When he started traveling to different powwows across the country as a teenager, he encouraged his native peers to join him as a way to get away from drugs and alcohol, as well as to learn about their heritage.
"The powwows were kind of like a steppingstone. It gets natives interested in their own culture," Wahwasuck said. "A lot of them, once they start powwowing, they get interested in their own reservations and want to see what their own has."
See Original Article at Omaha World Herald